It is the Sports Committee's task to promote participation in different sports events, as well as to organize such events within the Guild. They are also the representatives for the Guild in TLTH's Sports Committee.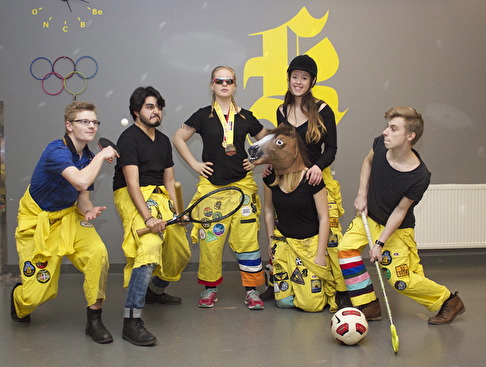 | | |
| --- | --- |
| Name: | Daniel Espinoza |
| Year: | K14 |
| Telephone: | 0763-116593 |
| E-mail: | k-akto@tlth.se |
Hey there! I´m the Head of Recreation at the Guild, but you can just call me Daniel. My main responsibility is to manage three of the Guild´s committees: the Sports Committee, the Committee for Cultural Interest and the Yellow Commanders. In practice this means participating in the planning of these committee's events and management of their economy, as well as being part of the execution of their events. Besides that I am a part of the Student Board as well as responsible for the Guild's study circles. The former means that I take part of discussions and decision making together with the rest of the Student Board, and as for the latter… Well, come ask me and I will tell you everything!

You are welcome to contact me regarding ideas for events for my committees or if you wish to learn more about the work I do in the committees and as a member of the Student Board. You can also find me in and around Gallien most of the time, so just grab a hold of me and I will gladly talk to you about anything (as long as I am not rushing to a lunch meeting, which tends to happen quite often).
Name and Year:
Sofie Blomberg
Fanny Redin
B16
B16
Sport Ions with tandemansvar
Name and Year:
Albert Anis
Ludwig Kaindl
K15
K15