The Yellow Commanders is the committee in charge of spreading our yellow color throughout all of LTH and also organize cozy pubs. The Yellow Commanders wants to improve on everyone's everyday lives with small surprises. Perhaps coffee and a biscuit might be in order? If you miss out on a pub you need not despair, there are always more opportunities! The Yellow Commanders also has the important task of keeping our monument, Bautastenen, in its rightful color.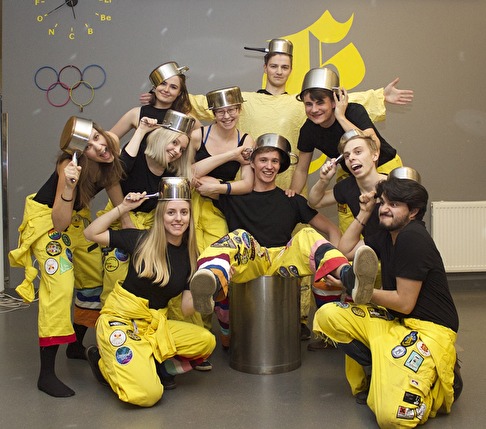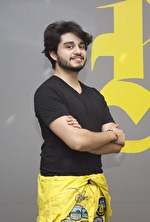 | | |
| --- | --- |
| Name: | Daniel Espinoza |
| Year: | K14 |
| Telephone: | 0763-116593 |
| E-mail: | k-akto@tlth.se |

Hey there! I'm the Head of Recreation at the Guild, but you can just call me Daniel. My main responsibility is to manage three of the Guild's committees: the Sports Committee, the Committee for Cultural Interest and the Yellow Commanders. In practice this means participating in the planning of these committee's events and management of their economy, as well as being part of the execution of their events. Besides that I am a part of the Student Board as well as responsible for the Guild's study circles. The former means that I take part of discussions and decision making together with the rest of the Student Board, and as for the latter… Well, come ask me and I will tell you everything!

You are welcome to contact me regarding ideas for events for my committees or if you wish to learn more about the work I do in the committees and as a member of the Student Board. You can also find me in and around Gallien most of the time, so just grab a hold of me and I will gladly talk to you about anything (as long as I am not rushing to a lunch meeting, which tends to happen quite often).
| | | |
| --- | --- | --- |
| Name and Year: | Roman Lord | K14 |
If you want to lead the happiest committee in the Guild, Obelix is your dream post! As Obelix, you are responsible of the spreading love part of Kommando Gul. You summon all the enthusiastic Kommando Ions to meetings and get things done. The activities that you organize are very varied: you paint the monuments on campus and make sure that LTH stays a beautiful yellow color, but feel also free to be creative and invent new activities to spread joy through the Guild! If you want to take responsibilities and if you enjoy crazy ideas, Obelix is for you!
| | | |
| --- | --- | --- |
| Name and Year: | Gustav Karlsson | K15 |

Being a pub master at the Guild you are responsible for the planning and execution of the pubs organized at the K-section. You have to have knowledge of the alcohol law, like to cook and preferably also know a thing or two about beverages. This is the best job at the section, no lies!
Name and Year:
Lo Cederberg
Johanna Bengtsson
Bella Nielsen
Stina Andersson
Emma Olsson
Jerry Guan
Vilma Medin
B16
B16
B16
B16
K16
K16
B17
Commander Ions help the Obelix, Pub Captain and Vice Pub Captain with their work