At the beginning of the autumn semester, all the guilds at LTH organize a student-reception event for the new students. The title Nolla (Zero in English) is given to those who haven't studied at LTH before and have zero experience to the student life and culture here. After the Nollegasque, at the end of the introduction, the student becomes Etta (One in English).
The purpose of the Nollning is to quickly enter the community at the K-guild and LTH, meet new friends, find people to study with and to have fun. Many of the people that come to Lund are worried about the first time here since they don't know anyone in the entire city, and that is exactly why the introduction exists.
Nollning at LTH is about having fun together, bullying is not allowed under any circumstances and doesn't appear either. The introduction is designed with the aim to be for everyone and to make sure that everyone has a good time.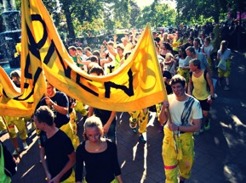 What happens during the nollning?
During the introduction you will get lots of help from a wonderful group of people called the mentors. They are older students that will teach you all you need to know (and more) about Lund and LTH. The mentors will make sure that the Nolla is having a great time and help them to get used to the life as a student in Lund. The Nolla will have four amazing and exciting weeks filled with events, parties, singing, dancing and much more! After accomplishing these four weeks of Nollning the Nolla will be allowed to wear the Engineer's cap (Teknologmössa), and is thereby no longer a Nolla.

The introduction 2019 will be the best one ever!