Student counsellors and Social worker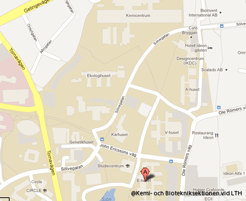 You can contact Studievägledningen, SVL, if you have questions about you education. It could be questions concerning you studies as well as you social life, coaching but also about everything else which may affect your studies!
You can find us in the end of the E-building, at the southern entrance.
Click on the image to enlarge the map.
Student counsellor of Biotechnology
Student counsellor of Chemical engineering
In the E-building (at the same place as the Student counsellors) you can find the Social workers of LTH. Their task is to help you with personal problems or if you simply feel like you need someone to talk to. More information about contact and where to find them you can find here. ​​​​​​​
The focus of the Student Health is help you with your studies and most commonly works with limited operations, usually 5 appointments at most. They are there when you are in need of support, advice or help when you are feeling down. For more information click here.