With regards to recent discussions about alienation at the Guilds, the Equality Officers and the Safety Officer are conducting a survey on how the K-guild's members are enjoying the Guild. We hope you will take the time to complete the survey, your answer will be a valuable contribution to the Guild's future work with equality treatment issues.

https://docs.google.com/a/student.lu.se/forms/d/e/1FAIpQLSelX9xh99qXY-7F4qQGDPix1j06mFUOe8P-UBKuQVCF6nsjPQ/viewform

Please note that the survey is completely anonymous, and the answers will only be treated by the Equality Officers and the Safety Officer.

// Sarah Lindblom, Equality Officer.
Elin Larsson, Equality Officer.
Linnea Gustafsson, Safety Officer.
Läs hela inlägget »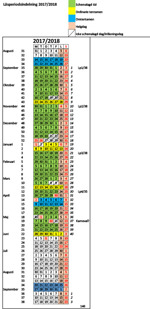 In number 11 of Kårnytt it was possible to read that the study periods will change until the next school year. The reason for the change is statistics that show that students who take re-examinations prior to the week when they have their original exams often don't pass all of the exams. There isn't enough time to study enough for all of the exams which means that you still have the same amount of courses left to pass. Next year the re-examination period in January will be moved to right after Easter and it will also be longer, two weeks instead of one. In addition, the re-examination period in Junde will be removed. The ambition with this change is to increase the number of exams that are passed.
Läs hela inlägget »
Do you want to have your drawing in the new songbook? Do you want to make something that will be long remembered in the k-guild? Draw a black and white picture to a beer-, wine-, or snapssong, and you might get your picture in the new songbook!

Send your contributions to k-troubadix@tlth.se before 23/4.

Best regards, The songbook group.
Läs hela inlägget »